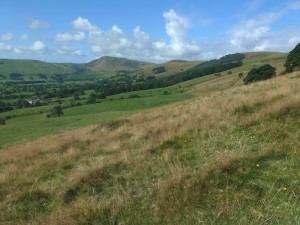 On Sunday evening I walked out of my hotel in Hathersage (Derbyshire / Peak District National Park), across the road, and back into a view and a countryside I first walked alone over 40 years ago. Sheep were bleating across the slopes, the air was clear, and the rural smells took me right back to the times I walked everywhere with a too-small-scale map, straight off the bus and into open country. And if I couldn't afford the bus, I just walked to where the bus would have stopped, and carried on walking.
I dropped down the slope, crossed the railway line, and down to the river and Leadmill Bridge. It was too late to go further, but being there really was 'all of it' – and the rest of the week lay ahead. I went out again after dark and ventured down a farm track. More sheep, a babbling brook, and one night away from a full (and blue) moon. Perfect.
But this holiday has had several specifics attached to it. First, it was high time that my sister and I visited our Mum as two daughters together. Writing and phone calls are one thing, but spending time together is different. The one thing I was afraid of, was that I might be representing the 'lost son'. Maybe more than that. My Mum has also lost a daughter-in-law and, to all intents and purposes, two grandchildren. My fault? Well, fault or cause don't matter, the result is the same.
Second, I wanted to meet two mums we knew in Sheffield in the early years of our parenthood, and with whom we'd stayed in touch over the 20 intervening years. There is no more 'we', but I'd had lovely positive and reassuring messages straight back from them, after my Christmas round-robin letter, when many others had not. Transition seems inevitably to sever random past connections, as some people just don't want to know, and as others don't know what to say and feel uncomfortable, and while others feel a need to take sides in a broken marriage (and the 'normal' partner is easier to sympathise with).
Third, I wanted to meet some friends I've known since my teens and not seen in a while. So all in all, this was to be a time of stitching back together my early, middle and latest parts of life, and to see what happened.
As a further experience, this has also been the first holiday I've taken on my own, in places I've always known in a context of being loved and loving, and where the return would not be to a loving home. Every choice, every moment of spontaneity, every beginning and ending, would be up to me.
I wish I wasn't going home tomorrow, as I sit in the bar drinking very local beer (Deception, from Abbeydale – I can recommend it) and writing my blog. Everything has been wonderful. Perfect weather, a couple of pretty taxing hikes, countryside I love, my amazing sister, and all friends so completely accepting, and comfortable with me. It is perhaps as well; this is such old hat for me, and so entirely normal and ordinary, anything else would have been awkward.
Time with our Mum was everything it should be. I think there was some difficulty in reconnecting the little boy and girl playing in Chatsworth fifty years ago, with the three mature ladies sitting there yesterday, but being 'Mum and two daughters' together was quite a powerful thing for me. It just felt so right, and infinitely more comfortable a family gathering than anything I've known before.
I've had some lovely chats with hotel staff too, with fellow guests, with a Blue John miner (not featuring in this blog, so go and Google this extremely rare mineral!), with someone in a jewellery shop I happened then to bump into twice more (if you're reading this, hello!), and with random people in places I've been. I would never have done that so easily before. Not once have I been looked at doubtfully, even when sweaty and bedraggled after a stiff climb, on a hilltop.
Are the stitches pulling?
The stitch in time has two meanings for me. It is the stitch that catches the tear in time and prevents harder work in future. It is also a stitch that draws together segments of time, so they don't drift apart like continents. Both have been really important for me, and this time, I could only have done it alone.
But the stitches are tight and feel secure. I have reconnected as an individual with places very important in earlier life. Places where I have known solitude before, in which I do remember wrestling with my unknowns, in a very unknowing way – somewhere between a hint of happiness and self-torture. Some of the landscape has changed. Rugged hikes in parts have been paved and become easy (a good analogy!) and a more well-to-do park in Sheffield that I knew very well has been left to go wild. And my memories have, perhaps understandably, been lively. This is childhood, adolescence, courting, being married, touring and walking with in-laws, being a parent with parents, a working place, and now a place with a really significant bite taken out of it.
In the middle of all this I have scribbled freely, and some of my feelings and emotions may yet emerge in new poetry. (But what else do you do when you eat alone and have the whole evening to yourself?) I also entertained a deep and meaningful blog on identity, essentialism and the role of language, after some serious texting of an epistemological nature while sitting with a hard-boiled egg and crisps in the Sheffield Park! And one of the most troubling yet reassuring things has been self-reflection on my past and present. I sat in a tea shop one afternoon toying with a potential conversation / interview on this.
Same boots, same trousers, same difference
The thing is, this is my first visit back to my home town, the places I grew up and began to assert my own personality, and was know as one of the fathers while mums were nattering together. So how did it feel to be striding the heather (in full bloom) for the first time as a woman? Transition does weird things to your memory, and to be honest I simply cannot remember myself as different before. On the inside I wasn't.
So to me, it really was a case of same boots, same trousers, been there, done that, and I'm wearing the same t-shirt. My thoughts, observations, feelings, enjoyments were exactly the same. OK, I was a bit more annoyed at catching a nail on the gritstone, clambering down some rocks … The only difference since when I came here walking so often before, was that I was having to do it alone. There was no-one who was there to hold hands with when I came off the rocks onto a sweep of grass, no-one to lean against in a cool breeze, or talk to with over the hard-boiled egg and crisps. No-one to sum the day up and start the next, or stand in the cool evening with, listening to night sounds.
And all because I am – what, not the same?
This one will thrust me back on the epistemology big time (thanks Dave, because it was both useful and incredibly funny texting philosophy between Sussex and my past-visiting Sheffield park!)
But seriously: what is it, then, that has only ended love, or rather the ability to be loved? Here I am on holiday, feeling so much the same and back to my roots, closer to my Mum and to my sister than ever, even belonging to this landscape. Tomorrow I return to my flat, do the shopping and laundry, and go back to work, doing what I've always done. My life has broadened, I am more socially capable than ever, but essentially I am really not that different. When I say 'I lost everything' of course I didn't really at all. I lost the love of one really important person, and the respect of my daughter, and the rest is just knock-on. It's just that to me that one thing was so devastating, undermining my understanding of love altogether.
So here I am. The stitches are holding. I am the one person, with the one life, the one past and the complete continuity. This, if anything, underlines my sense of integrity.
Next time, I shall begin addressing the big issue of self-knowledge, and why I still need someone to actually want me as more than just as a friend, with some degree of serious commitment and real loyalty, that doesn't depend on externals – even if I am wearing different shoes, a dress, and a smile from the happiness of being free to be myself at last.