I consider Brighton a kind place. I go anywhere I like and have had very few negative experiences as a transgender woman. I don't pride myself in 'passing', but I do try without going over the top. I don't call it a disguise, though I appreciate to some that it is hiding male traits. I call it revealing what I should be: it's just how I feel about myself from the inside. If someone looks twice at mean and thinks: 'OK, I think there's a man under there' I don't really care. That's just how they have learned to think, and it really isn't as simple as that.
A few months back I met Alex Drummond, a unique trans writer among other things (I really admire her joinery skills). He was over from Wales for a conference, and I wanted to talk about publishing, so we met up at the lunch break and migrated to a café. Sometime into our lunch and conversation, one of the waiters calls over, across the floor: 'Love the hair!' I'm not used to flattery, so I turned round. 'Thanks!' replies Alex. Huh! Either I was passing very well, or really not at all. Alex, resplendent in black jumper, cross-checked skirt, black tights and rather nice boots, bedecked with beads (hmmm: we actually have the same bead bracelet …) is certainly distinguished by the long brunette hair.
And beard.
So what can it mean to be transgender? I thought I didn't know, then I thought I did, then I met Alex. Stylish, individual, assertively 'out', he just doesn't need to try in order to be himself. Even if I do hesitate every time I use a pronoun. But what I really respect about Alex is that he is authentic, if different, and unafraid to be an example – and has really done the homework including an transgender-themed MSc. I found that really useful, because alongside her autobiographical account of self-discovery (which I found both funny and very close to home), it helped me understand what my 'normal' could be.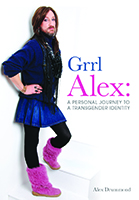 I was really pleased finally to be able to publish the revised edition of Grrl Alex: A journey to a transgender identity in January 2012, including a Kindle edition – not least because I think the unconventional message has a lot to say to all of us transgender people, and to those we know and love.