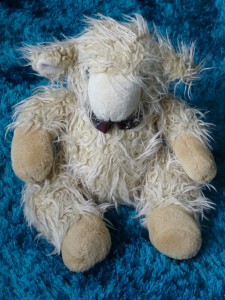 On Tuesday this week, I had an appointment, to return to the hospital I left two months ago and review things. You know, those things. There is often a need to make minor adjustments, because as things heal and any swelling goes down, not everything may be quite as good as it can be – even peeing slightly sideways can be worth correcting – and sometimes a bit of cosmetic improvement is needed. I've been happy enough, from my mirror-and-feeling-around point of view, but there is always a chance that something might come up in the conversation to suggest a return, and this is the time to tackle it.
Oh; yes. This is Emma. She's a sheep who's seen me all the way through this journey, and I just felt she deserved a showing at this stage of my journey's ending. She used to sit on a bedroom bookshelf, watching and listening as I emerged and tried to be myself and hold things together. Then she came with me, two years ago this week, as we went out on our own, and has slept with me ever since.
I've always said I've been lucky in all this, and I have, but it was especially lovely to find murmurs of real approval and appreciation as my pussy (not my sheep) was looked over and photographed (it's a really good example, apparently, so coming to a website or presentation near you sometime, perhaps!). It may be the last time anyone does that …
And it was a time to really thank my surgeon and the head of the unit, and part with reassurances that I can go back if ever I need, and that I'm willing to go in as an example for them if that would be helpful. There is a note on the bottom of my discharge letter suggesting a final return to Charing Cross Gender Identity Clinic, but I won't be taking that up. So I went home, a very happy bunny (not a sheep).
It was only as I arrived back at my flat that it really hit me: no more conversations with psychiatrists, counsellors, therapists, clinicians, about my gender. My gender recognition certificate, the final indignity, is up in front of the expert panel in under a fortnight, and should be a formality. (I won't be framing it.) What did take me by surprise, was the feeling of landing. I wrote a few months ago about knowing the end ahead was certain, and feeling like an aircraft that had been held in the hangar – scrutinised by engineers to see if I really had wings and a propeller, and if the rudder worked – and seeing the hangar doors open, to roll out and fly. Well, this was like I've done circuits since surgery, and have come back down ready to plan a real flight.
What that flight will be, I have no idea; how far, in what direction, how long? All I feel now is that I need to discard a bit more past, a bit more of what I have always been and done, and find something new. It's energising but scary at the same time. Goodness, if I've come through this, I should be doing a bit more than sitting back in the old patterns, work and involvements that have kept me going these past few years. Not easy at nearly 58 years old, with a mortgage to pay, but I really would like to learn something new, and get involved with people in a more therapeutic setting. Yes, that vague. I just feel that age, endurance and experience should mean I have something to encourage or inspire other people struggling with life, in whatever way that is. I have no intention of being a 'trans* activist', because I don't sense that's what I'm here to do. Maybe I need to take a few risks, after all I only have myself to harm now if I make a mistake. What I don't want to do is miss this opportunity for change, while I still feel empowered. Ideas on a postcard, please …!
Brief look back
One year ago this week, I was biting my nails, hoping the contracts on this flat would be exchanged in time to avoid friends' sofas. At the time I didn't even know when this journey might end, only that I was coming home to settle for a while in a new place. I had just finally lost my marital home, having disposed of a lot of loft-bearing clutter, and all the familiarity of 30 years shared living. I wrote this poem:
Two years ago this week, that home was stacked with most of what I would need for my first flat, and for living alone. This week is the anniversary of that worst day of my life. I wrote this poem:
and this week I read it at an open mic in Brighton.
But I have learned to live with the sadness. With sadness. I have learned to live. I believe there may be those, precious to me, who say that I am dead. Perhaps I should not argue with that. Here I come; don't try to persuade me simply to play safe, to survive.