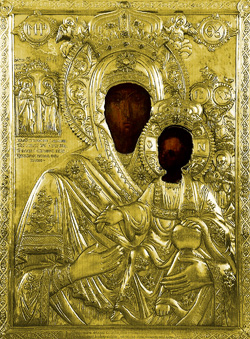 I have a lasting memory of black and gold religious icons of a revered madonna. Mysterious, impassive, unjoyous. And I have abiding memories from my religious experiences of feeling that something about me was deeply wicked and unspeakable. Somehow there was a connection, and patriarchy and male enforcement was common ground. This is deeply feminist, but I do not mean to offend anyone. However, largely as a result of religious views, I had no voice; I could not speak. I was illegitimate. Icons are part of our culture still, if not religious. But they are co-opted, made by and for their bearers, and in this way lose their real identity and freedom.
Compared to her I was so small
and she was black.
Her child was black
but her clothes were gold.
The child's halo shone,
but her face—kissed thin.
She was carried,
and bore hopes of women.
Men bore her, she bore him,
and I was damned.
The heart of me was gold—
but painted black.
I was woman-gold, blackened
so I could be kissed.
Having no halo, I was
carried along by men.
Men have painted her and men
have possessed her.
Her only known achievement
was to bear a man.
This icon, this heroine
this divine mistress—
told by male angel of this divine
presumptuous rape.
She would no more wish to be
portrayed like this
than I to be called a man to save me
from my mortal sin.
So we shall be icons to ourselves
strong, unknowable, pure,
misunderstood. Not black—
just absent from our gold.
2013 © Andie Davidson